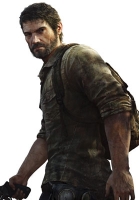 Joel was a Texas construction worker before the pandemic that wiped out most of the human population in The Last of Us. Due to losses he sustained at the beginning of the pandemic, Joel is a ruthless survivor who will leave others behind to save himself.
20 years after the pandemic, Joel works with a woman named Tess smuggling drugs and guns for extra ration cards. When a deal goes south, the two set out to get their supplies back and find themselves smuggling a girl named Ellie to the resistance group known as Fireflies.
Latest Games
Developed by Naughty Dog for iOS, PS3, PS4

The Last of Us is an action-adventure post-apocalyptic third-person survival horror game developed by

Naughty Dog

exclusively for the

PlayStation 3

. The game follows the story of

Joel

, a middle-aged black-marketeer, and

Ellie

, a brave teenage girl, as they work together to survive in cities reclaimed by nature, decimated by plague, and littered with gangs and other hostile survivors.
Joel (The Last of Us) Brainwaves
10th July, 1 replies

A few days ago, my colleague Stephen wrote an article stating why he believed that remastered re-releases...

6th July, 0 replies

There is often a sense of gratification when a game that you loved gets released later in an even better...

30th June, 0 replies

Although The Last of Us Remastered has been confirmed to run at 1080p for a while now, we haven't, until...
Share Joel (The Last of Us) with others