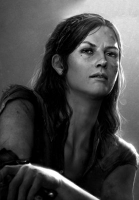 Tess was a smuggler along with Joel and a non-playable character in The Last of Us. Although she used to be in a relationship with Joel, the two are now only partners, smuggling in supplies for ration cards.
During one of her smuggling missions Tess is attacked by Robert's men and their weapons cache is stolen. Convinced by Joel, the two head out to regain their cache from Robert, who informs them that Marlene, leader of the Fireflies, has taken the cache. Marlene agrees to return the cache if they transport a 14-year-old girl, Ellie, to the Fireflies at the Capitol Building. On route, Tess is infected and dies trying to stop the military from catching up with Joel and Ellie.
Latest Games
Developed by Naughty Dog for iOS, PS3, PS4

The Last of Us is an action-adventure post-apocalyptic third-person survival horror game developed by

Naughty Dog

exclusively for the

PlayStation 3

. The game follows the story of

Joel

, a middle-aged black-marketeer, and

Ellie

, a brave teenage girl, as they work together to survive in cities reclaimed by nature, decimated by plague, and littered with gangs and other hostile survivors.
Tess (The Last of Us) Brainwaves
Share Tess (The Last of Us) with others