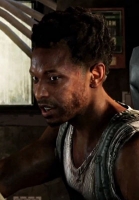 Henry was a survivor along with his younger brother Sam in The Last of Us. The outbreak occured when Henry was only a child in Hartford, while his younger brother was born seven years afterwards. After the military abandoned the quarantine zone in Hartford, Henry along with a group of survivors headed for Pittsburg, where they were attacked by Hunters.
While hiding from the Hunters in Pittsburg the brothers run into Joel and Ellie. The four wait for nightfall to escape the city full of Hunters and infected, but Sam becomes infected. Blaming Joel, Henry if forced to shoot his brother and then kills himself.
Latest Games
Developed by Naughty Dog for iOS, PS3, PS4

The Last of Us is an action-adventure post-apocalyptic third-person survival horror game developed by

Naughty Dog

exclusively for the

PlayStation 3

. The game follows the story of

Joel

, a middle-aged black-marketeer, and

Ellie

, a brave teenage girl, as they work together to survive in cities reclaimed by nature, decimated by plague, and littered with gangs and other hostile survivors.
Henry (The Last of Us) Brainwaves
Share Henry (The Last of Us) with others