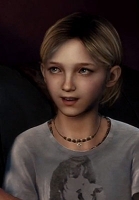 Sarah is the daughter of Joel and a temporarily playable character in The Last of Us. Little is known about her past prior to the outbreak except that she was raised alone by Joel in Austin, Texas.
In the prologue, Sarah waits up late for her father to return home and eventually falls asleep. When she wakes up again, she heads downstairs looking for Joel and finds him bloody and panicked in his study. Soon their neighbor attacks and Joel is forced to shoot them. Tommy shows up and the three try to escape the chaos of the city, but unfortunately Sarah is kills.
Latest Games
Developed by Naughty Dog for iOS, PS3, PS4

The Last of Us is an action-adventure post-apocalyptic third-person survival horror game developed by

Naughty Dog

exclusively for the

PlayStation 3

. The game follows the story of

Joel

, a middle-aged black-marketeer, and

Ellie

, a brave teenage girl, as they work together to survive in cities reclaimed by nature, decimated by plague, and littered with gangs and other hostile survivors.
Sarah (The Last of Us) Brainwaves
Share Sarah (The Last of Us) with others