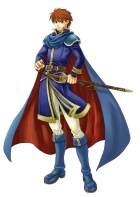 Eliwood of Phaere is a Lord from Phaere in the Lycian Alliance, on the continent of Elibe, in the Fire Emblem franchise. Eliwood originally appeared in a minor role in Fire Emblem: Fuin no Tsurigi, before reappearing as the main character of Fire Emblem. Eliwood would later appear yet again as a SpotPass character in Fire Emblem: Awakening.
Eliwood is the primary Lord in Fire Emblem, the heir to the throne of Phaere. He is a kind individual, if innocent and idealistic at times, but is fiercly loyal to his friends, family and land. The games plot begin with Eliwood setting out to find his missing father, leading him and his friends into a plot spanning the fate of the world. In Fire Emblem: Fuin no Tsurigi, Eliwood is far more minor character, the Marquess of Phaere and the father Roy, the games main character. Eliwood is only playable in this game during the post game Trial Maps. Eliwood appears throughout several DLC chapters and as a SpotPass character, usually as a Paladin. Eliwood's primary signature weapon is a Rapier, unique to him and his son in Elibe, and is the only unit in Fire Emblem to use the legendary weapon Durandal.
Latest Games
Developed by Project Sora for Wii

Super Smash Bros. Brawl is a fighter released in 2008 for the

Wii

. It is the third installment in the

Super Smash Bros.

franchise. The game sees well-known characters from a variety of popular

Nintendo

franchise such as

Super Mario Bros.

,

The Legend of Zelda

and Pokemon, pitted against each other in battles in a variety settings from a large number of Nintendo franchise universes.

Developed by Intelligent Systems for GBA, 3DS

Fire Emblem, released in Japan as Fire Emblem: Rekka no Ken, and known as Fire Emblem: Blazing Sword, is a strategy role-playing game for the

Game Boy Advance

, developed by

Intelligent Systems

and published by

Nintendo

. The game was released on April 25, 2003 in Japan, November 3, 2003 in North America, February 20, 2004 in Australia, and July 16, 2004 in Europe.
Share Eliwood with others