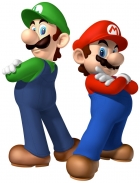 The most iconic franchise of the gaming medium, Super Mario Bros. began in 1985 with the release of the game with the same title which was bundled with the NES upon purchase. Consisting solely of platforming titles, the franchise has a commonly occuring plot revolving around the kidnapping of Princess Peach by Bowser or his minions, requiring Mario, the primary protagonist, to come to her rescue. The style of gameplay is also consistent throughout the entirety of the franchise.
The only exception to this is Super Mario Bros. 2, where the plot revolved around the protagonists having to fight enemies within a dream. Within this game the gameplay had also changed drastically with very different mechanics present compared to the original and succeeding games. This change in style was due to the fact that Super Mario Bros. 2 was a port of the game Doki Doki Panic redesigned as a Mario game. This was released in the US and Europe while Japan received a different version of Super Mario Bros. 2 (which residents of the US and Europe know as The Lost Levels).
Super Mario Bros. Brainwaves
24th January, 5 replies

Guinness World Records reveals the results of a poll to decide the "Greatest Videogame Villain of All...
Share Super Mario Bros. with others