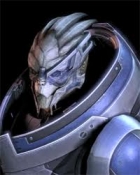 Garrus Vakarian is a Turian Soldier who is a close friend and teammate of Commander Shepard and a potential love interest for a female Shepard. He originally worked with Citadel Security, or C-Sec, but abandoned it to join Shepard in his quest to defeat Saren Arterius in the original Mass Effect. He is one of only two characters to appear as a playable teammate in all three Mass Effect games, the other being Tali'Zorah nar Rayya.
Latest Games
Developed by BioWare Edmonton for WIN, PS3, X360

Mass Effect 2 is a third-person shooter and role-playing game developed by Bioware Edmonton and published by Electronic Arts. Officially announced in a teaser trailer on February 20th 2009, It was released on PC and Xbox 360 in North America on January 26th 2010, and on PlayStation 3 on January 18th 2011. It is the second game in the Mass Effect trilogy, and features a major overhaul in combat and game mechanics.
Garrus Vakarian Brainwaves
Share Garrus Vakarian with others