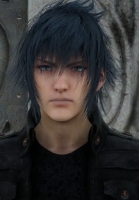 Noctis is one of the Final Fantasy characters and is the main protagonist in Final Fantasy XV, he is a the prince of Lucis kingdom and the heir to the throne. Noctis is the son of Regis Lucis Caelum, the head of the royal family that has protected the crystals for many generations.
Noctis suffered a childhood affliction that has left him able to see a heavenly light that descends from above when the goddess of death Etro opens the gate to welcome the souls of the dead. that enables Noctis to sense others' deaths
Latest Games
Developed by Square Enix for PS4, XOne

Final Fantasy XV ( formerly Final Fantasy Versus XIII ) is a distinct view of what the

Final Fantasy

franchise could be. It is an ambitious project that takes a courageous step toward the horizon of Action Role-Playing in a way that has never been seen in the previous Final Fantasy titles. Currentely, the game is in development for the

PlayStation 4

and

Xbox One

under the leadership of

Tetsuya Nomura

of

Square Enix

.
Noctis Lucis Caelum Brainwaves
Share Noctis Lucis Caelum with others