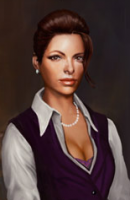 Shaundi is a member of the 3rd Street Saints and a character from the Saints Row series of games. She becomes a member of the Saints during the events of Saints Row 2, because she was impressed with the The Protagonist performing some stunts. She ends up becoming a Lieutenant while working under the Saints, eventually going on to becoming the Director of the Secret Service in Saints Row IV.
Latest Games
Developed by Volition for WIN, PS3, X360

Saints Row 2 is a third-person open-world game developed by

Volition, Inc

for

Xbox 360

,

PlayStation 3

and

PC

. It was published by

THQ

in 2008 and is the second title in the

main series

. A mobile version of the game was made by G5 entertainment shortly before the original's release. Three pieces of DLC were also created for

Xbox 360

and

PlayStation 3

- Ultor Exposed, Corperate Warfare and The Unkut Pack.
Share Shaundi with others