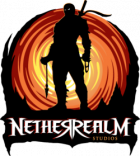 NetherRealm Studios is an American video game company based in Chicago, Illinois. The company was founded in 2010 by Warner Bros., replacing Midway Games, which had filed for bankruptcy the year before and had had its assets purchased by Warner Bros.
The company is most well-known for continuing to develop the Mortal Kombat series of fighting games under the leadership of series co-creator Ed Boon.
NetherRealm Studios Brainwaves
4th May, 0 replies

The Mortal Kombat universe is weird, weird enough that 80s movie icons don't really seem all that out...

27th April, 1 replies

Mortal Kombat X has remained at the top of the UK charts for a second straight week (week ending April...

20th April, 1 replies

The latest game in the Mortal Kombat series, Mortal Kombat X, hit store shelves on April 14 in the UK....
Share NetherRealm Studios with others