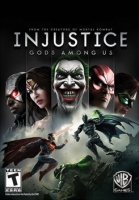 Injustice: Gods Among Us is a fighting game featuring a roster of various heroes and villains from the DC Universe. Developed by NetherRealm Studios - most well known for their work on the Mortal Kombat series - it is available on the PlayStation 3, Xbox 360, and Wii U.
Injustice takes place some time after Joker causes the destruction of Metropolis, as well as a number of Superman's close friends and family. As a result, Superman decides to establish a new world order, which results in a schism between those who follow Superman and those who instead decide to team up with Batman.
Injustice: Gods Among Us Brainwaves
17th January, 0 replies

2013 has been a shocking year for humanity, with natural disasters piled upon the horrific actions of...

31st December, 0 replies

The fighting game genre has enabled players to challenge each other in complex, man-on-man virtual battles...

30th October, 2 replies

Sony has unleashed a mammoth sized FAQ page on all things PlayStation 4, dubbed "PS4: The Ultimate FAQ",...
Share Injustice: Gods Among Us with others