Donkey Kong Country 3: Dixie Kong's Double Trouble! is a 2D side-scrolling platformer and plays very similar to its predecessors. Players take control of Dixie Kong and Kiddy Kong in an effort to rescue Donkey Kong and Diddy Kong.
General Gameplay
The main characters of the game are Dixie Kong and Kiddy Kong. They can run, jump and perform a variety of offensive moves including jumping on some enemies to defeat them. Dixie does a whip attack with her ponytail and can also use her ponytail like a helicopter to slow her falling speed allowing the player to get to out of reach areas. Kiddy Kong is less agile but more powerful than his cousin. He can use his water skip ability to bounce along the water's surface to get to otherwise unreachable areas.
The monkeys can also pick up items such as barrels and hurl them at enemies. When using one monkey, players can locate the other by finding them in a DK barrel. Players can then switch between the two during gameplay. Finally, Dixie and Kiddy have a team-up ability where one rides the other. When Kiddy carries Dixie, she can be thrown upwards to reach higher areas. When Dixie carries Kiddy, he can be thrown to break through weak areas in the ground.
Structure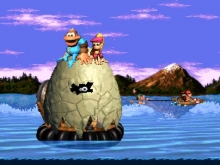 Players must guide their monkey to the end of each level. There are several levels in each world, which is concluded with a boss fight. Players traverse the world via a simple map, where they select each level.
There are hidden bonus levels with tokens called Bonus Coins which are obtained by completing them. These coins are used to unlock levels in Krematoa, a secret hidden world. Collecting 100 bananas rewards the player with an extra life, as does collecting all of the KONG letters in a level or finding a life balloon.
Banana Birds are an entirely new collectible in the game. Throughout the game's world, there are hidden caves that can be accessed, where the player is tasked with playing a Simon Says-type minigame. Upon completing it, they are awarded with Banana Birds, who are required to fully complete the game.
Animal Buddies
As with the previous two games, the third one also has animal friends that will help out the Kongs in their adventure. There are some new ones who make their debut here, as well as some that return from the previous games.
Ellie - A new buddy that can pick up and suck barrels towards her. She can also suck up water and spit it at enemies. Ellie is afraid of the Sneeks enemy, running away whenever she sees them.
Enguarde - A returning buddy that acts in the same manner as before. He can defeat enemies with the sword part of his body, as well as access secret areas with its super-charged move.
Nibbla - Acts as a buddy in Fish Food Frenzy, where he follows the Kongs around. It can eat some enemies, but is prone to attack the Kongs if it isn't fed for a while or fed Lurchins.
Parry - Not directly controllable, Parry follows the Kongs around and helps them locate secrets. If brought to the No Animal Sign, it will usually leave behind something special.
Quawks - Only found in two levels, it can pick up and roll barrels.
Squawks - Can shoot eggs at enemies and fly easily through levels.
Squitter - It can shoot web at enemies to defeat them, as well as make the web act as platforms.
The Brothers Bear
The Northern Kremisphere is home to the Brothers Bear group of friendly bears. They offer items and other services in exchange for Bear Coins, which act as the game's currency. They are also the home to a trading sidequest that will net the players Banana Birds. There are several members of the Brothers Bear, each with a unique personality.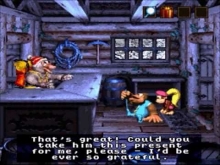 Bachelor
Baffle
Barnacle
Barter
Bazaar
Bazooka
Benny & Bjorn
Blizzard
Blue
Blunder
Boomer
Bramble
Brash
Kongs
Like the previous games, several members of the Kong family will aid the player throughout the game.
Cranky Kong - makes cameos in several of the bonus games in the Super Nintendo version. In the Gameboy Advance version, he runs Cranky's Dojo.
Funky Kong - runs Funky's Rentals where the player can use boats as transportation through the waters of the Northern Kremisphere.
Swanky Kong - runs minigames. He has his own sideshow in the Super Nintendo version and Swanky's Dash in the Gameboy Advance game.
Wrinkly Kong - In the Super Nintendo version she saves the player's game in the Save Cave, whereas in the Gameboy Advance version she runs a retreat where she cares for Banana Birds.