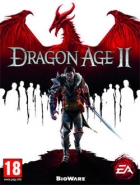 Dragon Age II is a fantasy Action Role-Playing game which is developed by BioWare and published by Electronic Arts.
It's the second installment of the Dragon Age franchise.
Dragon Age II Brainwaves
27th August, 0 replies

Dragon Age: Inquisition, the third game in the epic Dragon Age RPG series, is set to have a co-op mode,...

13th March, 0 replies

For many games, sexuality is a non-issue. Who cares if Cooking Mama is preparing a meal for Accounting...

19th August, 0 replies

You will be able to choose your race in Dragon Age: Inquisition. This decision goes back on Bioware's...
Share Dragon Age II with others