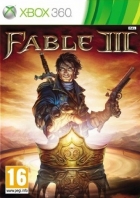 Fable III is set 50 years after the events of Fable II. The game is set on the fictional continent of Albion, which is entering the age of industry. The King/Queen, the hero/player character of Fable II, has died and left the Kingdom of Albion to their son, Logan (voiced by Michael Fassbender), the player's older brother. Some NPCs allude to how Logan has "changed" in the last four years of his rule, becoming excessively tyrannical. The player begins the game investigating rumours that Logan had a citizen of Albion executed, causing a group of citizens to protest. After the player character intervenes, Logan presents the player with the first of the game's numerous moral choices. The player is tasked with deciding whether the group of protesters are executed, or whether the player's love-interest is executed instead. Following the decision, the player escapes Logan's castle along with their mentor, Sir Walter Beck (Bernard Hill) and their butler, Jasper (John Cleese).
The player then, at the behest of Theresa (Zoe Wanamaker), the enigmatic Seeress of the Spire, starts to gather allies to aid in a revolution against Logan. The allies they gain include Sabine (Ben Kingsley), the leader of the "Dwellers", a nomadic community that lives in the mountains; Major Swift and Ben Finn (Simon Pegg) from the Royal Army in command of a remote fort; Page (Naomie Harris), the leader of the "Bowerstone Resistance"; and Kalin, the leader of Aurora, a desert land across the ocean. When attempting to gain the support of Kalin, the hero learns that a creature called the "Crawler, ruler of the Darkness," the forces of the Darkness which have already devastated Aurora, intends to exterminate all life in the Kingdom of Albion. It is revealed that Logan's reason for treating his people so harshly is to raise money for an army to defend against the Crawler.
Fable III Brainwaves
16th April, 0 replies

It has been announced that Ted Timmins, the Franchise Manager for the Fable series, has left Lionhead. Timmins...

27th February, 0 replies

Peter Molyneux, the original creator of Fable, has called Fable III a "trainwreck". While speaking to...

18th February, 0 replies

Today Microsoft has kicked off a new sale. This sale includes a variety of indie and digital versions...
Share Fable III with others