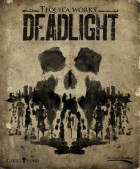 Deadlight is a platforming game released as part of the 2012 Summer of Arcade for the Xbox 360. The game remained exclusive to the Xbox for twelve weeks before being released via Steam for Microsoft Windows in October.
The game is set in a post-apocalyptic Seattle and the story unfolds over the course of the game, revealing the motives of the main characters efforts to enter the city. Gameplay revolves primarily around platforming puzzles requiring you to avoid various hazards. There are many undead scattered throughout the game but there is limited ammo requiring you to avoid or escape them rather than killing them.
Deadlight Brainwaves
24th August, 1 replies

Humble Bundle have launched the Jumbo Bundle 2, a bundle full of great games with no apparent overall...

31st March, 2 replies

Microsoft announced today that Hitman: Absolution and Deadlight are the two free games in April for Xbox...
Share Deadlight with others