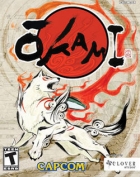 Okami is an action-adventure game developed by Clover Studios for the PlayStation 2, Wii and is planned to release on PSN. It was announced at E3 2005 and released for the PS2 on April 20, 2006 in Japan, September 19, 2006 in North America and February 9, 2007 in Europe. It was later released for the Wii on April 15, 2008 in North America, June 13, 2008 in Europe and October 15, 2009 for Japan.
The game is going to be re-released in HD on PS3, distributed digitally through PSN in 2012.
Okami Brainwaves
10th July, 1 replies

A few days ago, my colleague Stephen wrote an article stating why he believed that remastered re-releases...

30th August, 0 replies

Platinum Games is quickly becoming one of the more prominent developers for the Wii U library, with The...