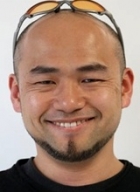 Hideki Kamiya is a video game designer who began his career at Capcom in 1994. He was one of the few employees to work on Resident Evil with series creator Shinji Mikami. In 1998, he made his first directorial debut on Resident Evil 2. He later directed Devil May Cry and the original Viewtiful Joe. He joined Clover Studio in 2004 and designed Okami, but after the studio went defunct two years later, him and the other Clover Studio members formed PlatinumGames.
Additional InfoHideki Kamiya has said one game that had the most impact on him was The Legend of Zelda: A Link to the Past, calling it a "perfect, complete game." The second game would be the arcade version of Gradius.Kamiya was very disappointed with the outcome of Devil May Cry 2, a sequel he would very much like to direct but Capcom appointed somebody else instead.When asked if he ever miss making a Resident Evil game at his Twtter account, Kamiya replied, "I've never missed it."
Hideki Kamiya Brainwaves
10th June, 1 replies

Famed game designer Hideki Kamiya took Microsoft's E3 stage today to announce Platinum Games' next title,...

11th October, 0 replies

Without Microsoft or Sony at New York Comic Con this year, Nintendo basically has the show to itself,...

30th August, 0 replies

Platinum Games is quickly becoming one of the more prominent developers for the Wii U library, with The...
Share Hideki Kamiya with others