Red Dead Redemption is an open world game set in the third-person. As protagonist John Marston, players can interact with the environment and engage in combat with enemies, using various firearms.
Activities
The game has a variety of different activities for the player to do when not involved in mission. There are games to play with other citizens, including arm wrestling, blackjack, poker, and Liar's Dice. Players can also hunt animals, complete bounty hunting requests, go camping, commit crimes, or herd cattle.
Bounties
The player can take up bounties and will have the choice of taking the outlaw either dead or alive. The choice will affect the honor of the player. To take an outlaw alive, players will need to use the lasso to hogtie the criminal and place him on Marston's horse. Live bounty targets give double the money reward than dead bounty targets.
Challenges
There are four different single player challenges for the player to complete, including sharpshooter, survivalist, master hunter, and treasure hunter. Each challenge has different tasks that must be completed.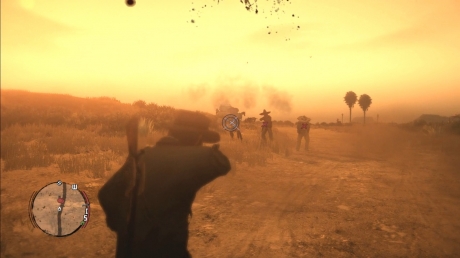 Dead-eye
The game utilises the 'Dead-eye' feature, which allows the player to slow down time and take out many enemies at once. Its use is limited by a meter which fills up as your shots hit NPC's accurately. There are three different levels of Dead-eye to acquire.
Fame
As they go through the game, players will acquire fame. Fame affects how people see John Marston, and whether they think he is good or bad. Fame is changed by killing people, completing missions and jobs, finishing challenges, and helping strangers.
Gang Hideouts
Gang hideouts are located throughout the world of Red Dead Redemption. The player can find them and wipe out the gangs within for rewards and experience.
Hunting
There are 36 species of animals that the player can hunt, excluding legendary animals. After an animal has been killed, it can be skinned, and the resulting items sold or traded to merchants. Hunting is required to complete the Master Hunter challenge.
Strangers
Strangers are found all throughout the world, and players can talk to them to engage in optional quests and missions. These NPCs are typically represented on the map with a blue dot. Players may have the choice to perform the mission in a honorable way or a dishonorable way.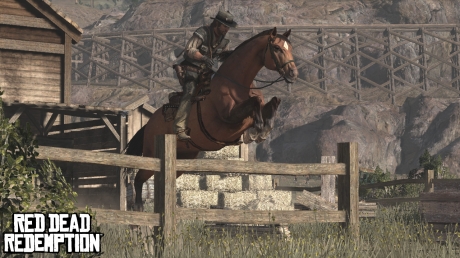 Transportation
Different breeds of horses are the main forms of transportation, each with different attributes. Marston can fight while riding a horse. Horses must be tamed in order to use them. Marston can utilize trains to get from place to place quickly, but he can also stop the train by threatening or killing the passengers or driver.