Cholla Springs is a region in New Austin. It is the central region in the area. The area is mostly desert, and there is a lot of cattle farming here.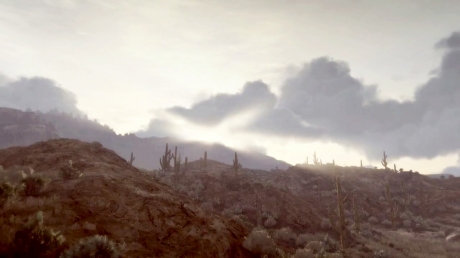 Armadillo
Armadillo is a town located in Cholla Springs. Walton's Gang is present here, and crime is high. Leigh Johnson is the Marshal of the town. John Marston does many missions in this location in the beginning of the game. The town feature several amenities, including a bank, a saloon, a general store, a train station, and a gunsmith.
Coot's Chapel
Seth Briar is found here, and Marston can get a mission from him in this area. The area consists of a chapel and graveyard.
Critchley's Ranch
This is a small homestead belonging to Critchley and his wife. There is a lot of livestock here.
Hamlin's Passing
Hamlin's Passing is an open area with a small camp. It is the site of a large massacre with settlers being killed by Native Americans.
The Hanging Rock
This area is the site of many executions by hanging. A treasure is found here. There are three stranger missions here, and gang members may be found here if you are hunting bounties.
Jorge's Gap
Jorge's Gap is a naturally formed gorge with two exits.
Lake Don Julio
This lake is the site of some missions, and it is an excellent location for finding ducks to hunt.
Mercer Station
Mercer Station is an abandoned train station located near Fort Mercer. Trains go by this station without stopping.
Odd Fellow's Rest
Odd Fellow's Rest is a graveyard. One mission ends in this location.
Pleasance House
Pleasance House is a small home west of Armadillo. It is featured in two missions. In the mission Water and Honesty, Marston can kill the owner and take the deed, keeping the house for himself.
Rattlesnake Hollow
This area is a series of small caves on the mountain face west of Twin Rocks. Several bounty targets will be found here.
Ridgewood Farm
Ridgewood Farm is a ranch that is the location for several missions. Marston can use the farm as a safehouse for $5 a night, and he can also break horses here.
Riley's Charge
Riley's Charge is an area filled with ruins from an old encampment. Many animals can be found here for hunting purposes.
Rio del Lobo
Rio del Lobo is a canyon that leads down to San Louis River. There is a treasure located here, and bounty targets may also be in the area.
Twin Rocks
Twin Rocks is a gang hideout for Walton's Gang. Clearing this area results in finding the Volcanic Pistol.
Two Crows
This is an area with broken down buildings, located south of Armadillo. Sometimes there will be a random encounter here with lawmen and outlaws fighting.
Venter's Place
Venter's Place is a tiny ranch northwest of Lake Don Julio.