Resident Evil Revelations returns the gameplay theme to Survival / Horror just like in Resident Evil 4 rather than Survival / Action as in Resident Evil 5. The game's camera is in 3rd person over-the-shoulder view of the playable character but cam be switched to 1st person when aiming with a rifle or similar weapon. Unlike Resident Evil 4, players are now able to move the characters while aiming their weapon at enemies.
Health & Recovery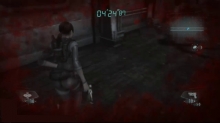 There is no Health bar in Revelations, instead, the screen becomes more desaturated and red as the character is damaged. When the character takes too much damage they die.
To recover health you will need to find herbs and use them instantly to recover. You are limited to a maximum limit of 5 herbs.
Weapons & Equipment
All characters have a personal inventory that is limited per item, rather than a inventory limit of a case or slot limit that was used in previous Resident Evil games.
Throughout the game you can find Custom Parts and Illegal Custom Parts that can be placed on weapons at a weapon crate to customize and upgrade them. Illegal Custom Parts are higher level custom parts that are much more rare to find.
Weapons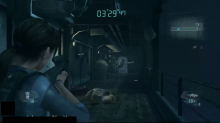 Characters slowly gain weapons as they progress through the game and can switch weapons by using the directional buttons. Each weapon has their own ammo and can be switched openly with other acquired weapons. You will also obtain four different types of grenades that can be used in combat.
Visit the Equipment & Weapons section for more information.
Genesis
The Genesis is new device that bounces special synchrotron radiation off a target in order to analyze it. This allows you to examine bioorganic tissue in the game for rewards, such as herbs when you reach a scan percentage of 100% per organic type.
Additionally, the collectible handprints can be found by using the scanner.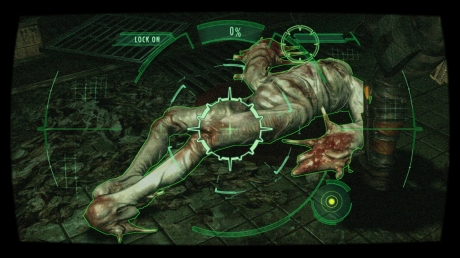 Swimming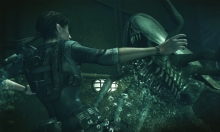 Unlike previous Resident Evil games, Revelations has the ability to swim. Many locations in the game are accessed by exploring underwater areas, but you can also be attacked by enemies.
There is no oxygene gauge, but when you begin to run out of air the screen will desaturate and become bloody similar to when you are on low health. While Jill takes no health damage underwater, being attacked by enemies will lower your oxygene faster, leading to death.
Combat
Revelations focuses on item and ammunation management to avoid running out. When your partner is persent they take an active role in combat and help players to fight off enemies.
Combat Knife
Combat Knife is the permanent weapon and can be used when you wish to save ammunition. Though they are low damage, knifes can be used for close quarters combat, but at the risk of taking damage. Note that when playing as Keith and Parker the knife is substituted for other weapons.
Knocked Down
Some enemies can knock the characters down, limiting attacks to one-handed weapons. In order to get back on your feet you will need to tap the Action button prompt to get up faster.
Melee Attacks
Like the previous games stunned enemies can be melee attacked by getting in close and performing a button prompt. Holding the button charges up the attack and does more damage and when it reaches the full charge limit the attack triggers itself without the need of releasing the button.
Dodging Attacks
The game features two types of dodge attacks, one is called a forward dodge and other backward dodge. As the enemy begins to attack a prompt will appear that will have the character quickly move behind the enemy or in front of him dodging the attack. If done too early or too late the dodge will fail and you will take damage.
Raid Mode
Just like Mercenaries Mode in previous titles, Revelations features Raid Mode, which has one to two players fight off different waves of enemies while trying to reach a goal.
For more information see the Raid Mode section.