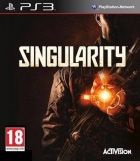 Singularity is a horror FPS game released in June, 2010. You play as a modern American soldier who crashes on a supposedly abandoned Russian military island and discovers a machine that can bend time. This game has a singleplayer and multiplayer mode.
Singularity Brainwaves
23rd March, 0 replies

Raven Software has teased the prospect of a new Singularity release as part of celebrations for the company's...
Share Singularity with others