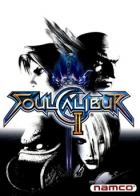 SoulCalibur II is a fighting game developed by Project Soul and released on Arcade, GameCube, PlayStation 2, PlayStation 3, Xbox, and Xbox 360. The game is the third installment in the SoulCalibur series and had improved side-step and avoid game features, arena walls, and a Soul Charge system.
The game is set four years after the end of SoulCalibur, following the events of Siegfried's release from the curse. After its defeat, Soul Edge's fragments began causing chaos and evil to grow in the world. Driven either to possess or destroy the evil sword, each warrior embarks on a new journey, while Nightmare starts his rampage anew, seeking souls to gain the power to restore Soul Edge once again...
SoulCalibur II Brainwaves
3rd May, 0 replies

Project Soul, the Bandai Namco subsidiary responsible for developing the SoulCalibur series of fighting...

1st November, 0 replies

Namco Bandai has announced that Soul Calibur II HD Online, the HD remake of 2003's popular fighter, Soul...

30th August, 0 replies

Did you like SoulCalibur II? Of course you did, It was only one of the best fighting games ever made....
Share SoulCalibur II with others