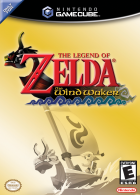 The Legend of Zelda: The Wind Waker is an action game developed by Nintendo EAD and released on GameCube, Wii U. It featured a new style of graphics called "Cell Shading" which gave the game a cartoon look. Despite some of the innovative new features in the game such as Cell Shading and the ability to connect your Game Boy Advance to the console for gameplay, it received a relatively poor reception from its fan base at the time.
The main criticisms seemed to stem from gut reactions over the unusual art style and other departures from the series. Over time, however, the game has come to be respected as one of the best in The Legend of Zelda series. Wind Waker was a critical and commercial success leading to its HD rerelease on the Wii U in October 2013.
The Legend of Zelda: The Wind Waker Brainwaves
10th January, 0 replies

The Wii U has had an extremely rough year, with sales so poor many are claiming (hoping) Nintendo will...

4th January, 0 replies

Anybody notice an award missing from our usual Game of the Year categories? Like Charles I and his head,...

1st January, 0 replies

The last generation brought with it a wave a re-releases and HD Remakes that collected old favorites...
Share The Legend of Zelda: The Wind Waker with others
The Legend of Zelda: The Wind Waker