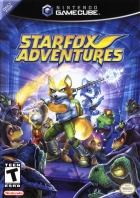 Star Fox is lured into the game by a signal of help needed from Krystal, who has been captured by the general of a race of dinosaur like creatures. The planet Star Fox is sent to investigate is being pulled apart by strange forces and Star Fox is given orders to find out who, what and where the forces are. He encounters a herd of dinosaurs who live on the planet and are peaceful but have been attacked by the generals army.
As with many games Star Fox will collect various objects and, in this case, Scarabs that can be used to upgrade his weapons or to buy certain items from a shop keeper to trade with others. Star Fox will also be subjected to special trials that are somewhat difficult and must be completed to move on. His side-kick, Tricky, can be helpful at times and a nuisance at other times. All in all he is fun to have around.
Star Fox Adventures Brainwaves
19th May, 0 replies

Just recently, I finished my copy of Star Fox Adventures. I remember buying it when I was only 7; I never...
Share Star Fox Adventures with others