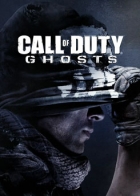 Call of Duty: Ghosts is the latest entry in the long-running Call of Duty first person-shooter series, being developed by Infinity Ward and set to be published by Activision, making it the first Call of Duty game to be lead developed by Infinity Ward since Modern Warfare 3 in 2011.
Call of Duty: Ghosts promises to reinvigorate the franchise, creating a whole new sub-brand, a brand new game engine and will introduce new ideas and experiences to the series. It is in development for the PlayStation 3, Xbox 360, PC, Wii U, PlayStation 4 and the Xbox One, and is due to be released on November 5, 2013.
Call of Duty: Ghosts Brainwaves
1 day ago, 0 replies

In an extreme case of video game rage, a Call of Duty player who lost a match got his own back in a very...

1 day ago, 0 replies

It has finally been announced that the Xbox One will be launching in Japan later this year, on September...

5 days ago, 0 replies

It can become difficult to digest all the juicy tidbits of information that surface each week, so now...
Share Call of Duty: Ghosts with others