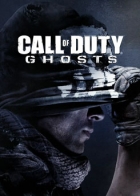 Call of Duty: Ghosts is the latest entry in the long-running Call of Duty first person-shooter series, being developed by Infinity Ward and set to be published by Activision, making it the first Call of Duty game to be lead developed by Infinity Ward since Modern Warfare 3 in 2011.
Call of Duty: Ghosts promises to reinvigorate the franchise, creating a whole new sub-brand, a brand new game engine and will introduce new ideas and experiences to the series. It is in development for the PlayStation 3, Xbox 360, PC, Wii U, PlayStation 4 and the Xbox One, and is due to be released on November 5, 2013.
Call of Duty: Ghosts Brainwaves
2 days ago, 0 replies

It can become difficult to digest all the juicy tidbits of information that surface each week, so now...

5 days ago, 0 replies

Infinity Ward has been taking some interesting steps to branch out into a larger cultural realm, as of...

10th March, 0 replies

With the recent controversy over Watch Dogs' new reveal trailer, which showed less than ideal graphics...
Share Call of Duty: Ghosts with others