The basic gameplay is little changed from previous installments of the series, but there are a few new or enhanced features.
Avatar Creation
The avatar creation from Fire Emblem: Shin Monshō no Nazo: Hikari to Kage no Eiyū has returned, but in greater detail. Allowing a player to control different options, the player CREATES the unit of their choosing.
Difficulty Setting
The player can choose from several difficulty levels while playing the game, including:
Normal
Hard
Lunatic
Lunatic Plus
Additionally, separate from the difficulty levels, there are:
Classic mode involves the permadeath feature the series is known for, where characters that die can not be revived.
Casual mode features character automatically reviving post-battle.
Character Progression
As characters defeat enemies in battle they will gain experience. This experience will eventually lead to a Level Up and improved stats.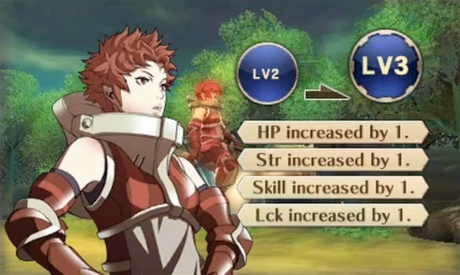 Characters also gain experience with weapons, which can level up, earning the character to wield higher level weapons within that weapon class.
Class Change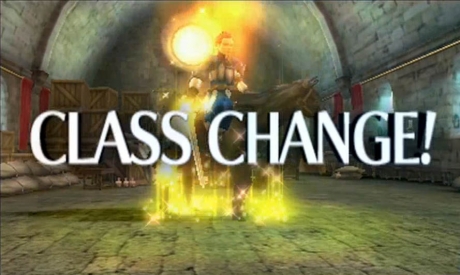 There are two types of classes per character: Base and Advanced
Using items, called seals, the player can change a units base class or advance classes as many times as they wish. Note that the type of class you can change between is based on the unit. With over 40 classes available in the game, you to change a character to by anything you want.
For example:
Kellam

Sully

Thief
Assassin
Myrmidon
Assassin
Trickster
Swordmaster
Knight
General
Cavalier
Paladin
Great Knight
Great Knight
Priest
War Monk
Wyvern Rider
Wyvern Lord
Sage
Griffon Lord
There are also some special classes, which do not have advanced version:
Manakete
Taguel
Dancer
Villager
Skills
As players Level Up they can also learn skills, which can improve your stats or give the character special abilities. Since Skills can be carried over across classes, it is best to try out many classes and learn the skills.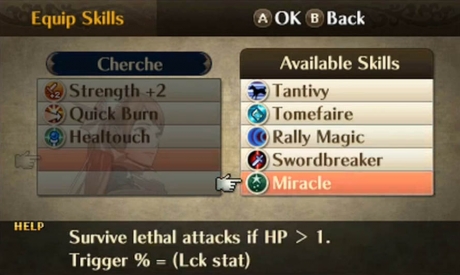 Note that only 5 skills can be equipped to a unit at one time.
Relationships
While battling together character will develop emotional ties to one another. Similar to Fire Emblem: Seisen no Keifu, when some character pair up and create a tight bonds, they may also begin relationships and even have children.
Note that the player-created avatar is able to pair up and marry any opposite gendered character, and children are eventually able to be used in battle as well.
See Pairing Up in the Combat section for more info.