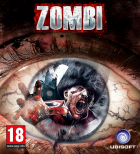 ZombiU is a Wii U exclusive game being developed by Ubisoft Montpellier for the console's launch in late 2012. The game's major hook is its 'one-hit kill' system, where one attack from a zombie will kill your survivor... and turn it into a zombie. You then continue play as another survivor, but you must regain your equipment by killing your former character.
It was formerly known as Killer Freaks From Outer Space, and is the sequel to Ubisoft's first game, Zombi. It is set to release on November 18th in North America, November 30th in Europe and Australia and December 8th in Japan as a launch title.
ZombiU Brainwaves
10th June, 0 replies

Wii U exclusive ZombiU might be getting ported to the PlayStation 4 and Xbox One, according to a source...

25th June, 0 replies

Ubisoft has joined the summer sale party and the company is offering up to 75% off certain Wii U and...

9th February, 0 replies

What will you do if the zombie apocalypse occurs? Do you have rigorous zombie survival training? Maybe...