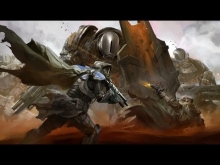 The Cabal are one of the many alien races found in the Destiny universe.
Like almost all other alien races found in the game, the Cabal wish to obliterate humanity. They are very large, possibly hominoid, creatures, standing at least two times taller than the average man.
The Cabal seem able to employ shields as well as bladed firearms. They appear to use their shields as very powerful melee weapons similar to the Hunters in the Halo series.