Destiny is a looting, co-op, first person sci-fi shooter. Players are given many abilities to use for exploring and fighting against the enemy.
General Gameplay
Destiny is a first person shoot and loot game that has you playing with many other players around the world. It has been branded as an MMOFPS by some, due to the amount of social aspects of the game.
During missions, players are pinned against alien races that must be killed in order to advance. Players use their Guardian's abilities and weapons to kill said enemies and earn experience points to level up and unlock even more abilities.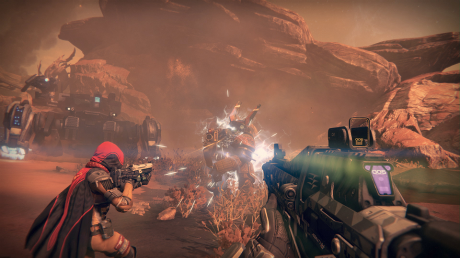 Guardians are agile and quick heroes. Movement is quick and simple with a double jump for each class. These double jumps can be upgraded based off of the Guardian Class one uses.
The social aspect of this game comes in the form of The Tower. The Tower is a social world where other Guardians can meet up, gather missions, bounties, buy weapons, upgrade weapons, purchase ships, etc. Players can invite other Guardians to form a Fireteam that can go back down and face missions together.
Game Modes
Destiny has many different game modes for one to chose from.
Story Missions
Story Missions are simple missions that are done either by oneself or with a fireteam. These missions are specific and can be done at any time, meaning that they are not required to play the game.
Crucible
This is the game's PvP mode. The Crucible is a PvP arena style game mode that features seperate game modes within it. These include Control, Clash, Rumble, Salvage, Skirmish, and Combined Arms.
Raids
Raids are difficult missions that can only be played through one's friends. Matchmaking is not supported for this due to the amount of communication required for these. In a raid, the players are not given objectives and are left to figure out what to do based on the situation.
Patrol
This is the "free roam" mode that allows Guardians to roam the planet freely in search for loot or to help those whom are lower levels with the public areas for certain missions.
Strikes
These are public events that take place randomly. If a player engages in one, then he will have to partake in it until the public aspect of the strike is complete. Players can also join the fireteams of those who assisted in the public aspect and go on to complete the private sections of the mission.
Classes and Sub Classes
Each Guardian class has two subclasses. A default one that is available from the beginning and one unlocked once th Guardian has reached level 15.
Titan
The Titan has two subclasses called Striker and Defender. Striker is an offensive class, whereas Defender is more of a defensive class. Each have their own abilities and their attributes.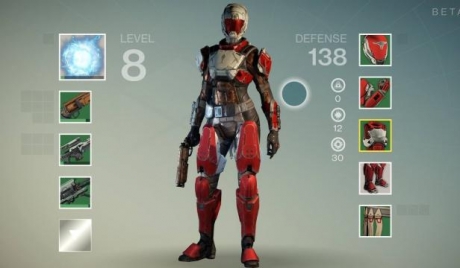 Hunter
The Hunter is a stealth like class with two subclasses as well. The two classes are Gunslinger and Bladedancer. Gunslinger is an offensive weapon class,whereas Bladedancer is an offensive close combat class.
Warlock
The Warlock is a Guardian class that utilizes Void Energy for dealing damage. The two subclasses are Voidwalker and Sunsinger. Voidwalker is a class focused on area of affect and crowd control, whereas Sunsinger is a team oriented class meant for helping your allies.
Equipment
Within Destiny is loot that has different rarity levels and damage. Not only this, but weapons also differ on the type of damage they do.
Rarity- Basic (White)
These are items that are the easiest to obtain. Basic weapons cannot be upgraded and deal little damage. Other basic equipment is simply basic with no special abilities.
Rarity- Uncommon (Green)
These items are a bit harder to obtain, though have more options available. These items can be upgrades and have much better stats than basic items.
Rarity- Rare (Blue)
Rare items are even harder to obtain. These are powerful pieces of equipment that can be upgraded mutiple times and have stats that are even better that Uncommon gear. Rare weapons can be dropped or purchased via Engrams.
Rarity- Legendary (Purple)
These items are extremely difficult to obtain and take a lot of time to actually receive. Legendary items are one of the most customizable and deadly items. Stats for these items are high and have special side abilities.
Rarity- Exotic (Gold)
Exotic is the most difficult equipment to obtain within the game. It is said that one can only obtain these by completing difficult tasks or by Engrams. Exotic gear is so powerful that players can only have ONE Exotic Armor piece and ONE exotic weapon equipped at a time.
Damage Type- Kinetic
This damage type is physical damage.
Damage Type- Arc
This is an electric type of damage. This damage type is extremely useful against shielded targets. Arc can also be used as area-of-affect.
Damage Type- Solar
Solar damage is flame damage that can ignite enemies and harm those with Orange shields much more than those without. Solar damage is a flame based damage that can ignite enemies and slowly diminish their health.
Damage Type- Void
Void damage is related to gravity and energy. Void is extremely useful against those with a purple shield.