"Very few of us survived, and those who did, owe their lives to the Traveler. Legends say the traveler sacrificed itself to save us, the mysterious sphere still hangs where it made it's last stand, low above the earth, keeping silent watch."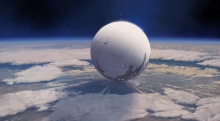 The Traveler is a mysterious sphere that hangs in a low orbit above Earth. Many believe it to be a shuttle of somesort, an artificial intelligence, or even a god.
The arrival of this mysterious sphere sparked a golden age on Earth. During this time humanitiy's reach spanned the Solar system.
At the end of this golden age, humanity was attacked and all but completely wiped out. The Traveler sacrificed itself to save a small portion of humanity from the genocide. As it hung low in orbit a civilization was rebuilt in its shadow, temporarily safe from the massive alien threats at hand.