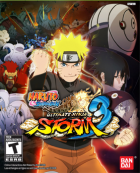 The critically acclaimed NARUTO SHIPPUDEN™: Ultimate Ninja® STORM series is back in 2013, celebrating the return of highly awaited boss battles and welcoming brand new features to revamp the game experience.
More immersive, more faithful and more extreme, NARUTO SHIPPUDEN: Ultimate Ninja STORM 3 will offer the most epic Naruto experience ever seen in a video game. Dattebayo!
Naruto Shippuden: Ultimate Ninja Storm 3 Brainwaves
15th September, 0 replies

In a move that will cause the minds of anime fans the world over to cave in out of sheer fanboy love,...
Share Naruto Shippuden: Ultimate Ninja Storm 3 with others
Naruto Shippuden: Ultimate Ninja Storm 3