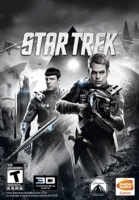 Star Trek: The Game is an action game developed by Digital Extremes for the PlayStation 3, Xbox 360, and Microsoft Windows. The storyline of the game is designed to be canon to the new Star Trek universe, taking place after the 2009 film, Star Trek, and taking place before the upcoming 2013 film, Star Trek Into Darkness.
The game is designed to be a single-player game with cooperative gameplay elements, allowing two people to control Kirk and Spock. Each character provides different gameplay techniques, with Kirk being a more typical shooter and Spock having stealth techniques.
Star Trek: The Game Brainwaves
15th January, 1 replies

It's a great IP to have, I hope they put it to good use unlike some other movie/tv tie-ins! What's the...
Share Star Trek: The Game with others