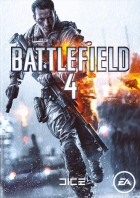 Battlefield 4 is the latest first-person shooter in Electronic Arts' Battlefield series. Developed by DICE, it is set to release on the PlayStation 3, PlayStation 4, Xbox 360, Xbox One, and Microsoft Windows.
Set six years after its predecessor in the year 2020, the player controlls "Recker", a member of a US special operations squad "Tombstone". The game's story begins with the evacuation of American VIPs from Shanghai and follows the player's squad - Tombstone squad - as it struggles to find its way home. Electronic Arts have describe Battlefield 4 as a "genre-defining action blockbuster made from moments that blur the line between game and glory".
Battlefield 4 Brainwaves
23rd July, 0 replies

Yesterday EA announced the financial results for their first quarter of the year. Along with various...

19th June, 0 replies

With the upcoming Battlefield: Hardline set to be released this fall, EA studios are making sure they...

23rd April, 0 replies

DICE, the developers of Battlefield 4, have upgraded the game's server infrastructure in an attempt to...
Share Battlefield 4 with others