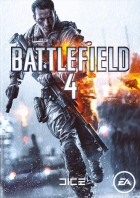 Battlefield 4 is the latest first-person shooter in Electronic Arts' Battlefield series. Developed by DICE, it is set to release on the PlayStation 3, PlayStation 4, Xbox 360, Xbox One, and Microsoft Windows.
Set six years after its predecessor in the year 2020, the player controlls "Recker", a member of a US special operations squad "Tombstone". The game's story begins with the evacuation of American VIPs from Shanghai and follows the player's squad - Tombstone squad - as it struggles to find its way home. Electronic Arts have describe Battlefield 4 as a "genre-defining action blockbuster made from moments that blur the line between game and glory".
Battlefield 4 Brainwaves
12 days ago, 0 replies

Battlefield fans have finally uncovered the Megalodon in Battlefield 4's Naval Strike DLC; a huge shark...

14 days ago, 0 replies

EA's official Battlefield Blog has offered a statement regarding the lack of quality server performance...

19 days ago, 0 replies

Battlefield 4's Naval Strike was delayed on the Xbox One, but it's now been released. The delay was to...
Share Battlefield 4 with others