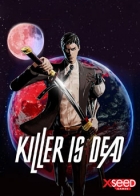 KILLER IS DEAD is an action game developed by Grasshopper Manufacture for the PlayStation 3 and Xbox 360. Advertised heavily as a Suda51 game, despite his only credit as a Writer, the game follows an executioner named Mondo Zappa who works for the Bryan Execution Firm. His job entails hunting down dangerous criminals and assassins.
While the game isn't a sequel to any previous games, it is considered to maintain the essence of the assassin series started with Killer7 and No More Heroes. The games unique artistic style and story has been described as a "Dark Side 007", but deals with an even seedier underworld that the surface world.
Killer is Dead Brainwaves
11th June, 0 replies

Suda 51, the director of Lollipop Chainsaw and No More Heroes, has a new game coming out this summer....

1st May, 1 replies

Auteur game designer, Goichi "Suda51" Suda, is still hard at work on his upcoming project, Killer is...

31st January, 0 replies

XSEED recently announced localization plans for the Wii title Pandora's Tower to finally come to North...
Share Killer is Dead with others