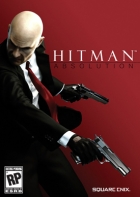 Hitman: Absolution is a stealth shooter game developed by IO Interactive and published by Square Enix. It is the fifth entry in the Hitman franchise, and runs on IO Interactive's proprietary Glacier 2 game engine. It was released on 20 November 2012 worldwide on the Xbox 360, PlayStation 3, and Microsoft Windows.
Absolution is aimed at a wider audience than earlier games in the franchise, and so tries to be more accessible and easier to control. The storyline delves further into the mysterious and complex life of series protagonist, Agent 47, as he breaks away from the Agency to fulfil a promise made to an old friend.
Hitman: Absolution Brainwaves
4th April, 1 replies

Square-Enix wants to return to the business of making Japanese games for the core gamer. That was the...

31st March, 2 replies

Microsoft announced today that Hitman: Absolution and Deadlight are the two free games in April for Xbox...

6th January, 0 replies

When it was created in 2011, Square Enix's new studio, Square Enix Montreal, was said to be working...
Share Hitman: Absolution with others