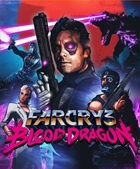 Far Cry 3: Blood Dragon is a stand-alone expansion for Far Cry 3, set in a neon 1980s VHS straight-to-video vision of 2007.
"It is the near future. The apocalypse has had an apocalypse. A rogue cyborg army is reshaping the world into cyber hell, and only one thing can stop them. From the toxic ashes of Vietnam War II, a new breed of renegade soldier is born. Part man, part machine, all Cyber Commando. Sergeant Rex Colt is leading the battle between good and evil, as it's never been fought before. He's on a desperate mission to bring down a batallion of ruthless killer cyborgs and save the world."
Far Cry 3: Blood Dragon Brainwaves
28th January, 0 replies

According to the LinkedIn page for Ubisoft Shanghai's Design Manager, Ubisoft Shanghai may be working...

7th December, 0 replies

After deciding 4 days of rest is enough, Lord Gaben has given us another sale, but be quick since this...
Share Far Cry 3: Blood Dragon with others