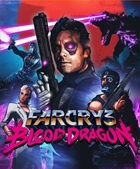 Far Cry 3: Blood Dragon is a stand-alone expansion for Far Cry 3, set in a neon 1980s VHS straight-to-video vision of 2007.
"It is the near future. The apocalypse has had an apocalypse. A rogue cyborg army is reshaping the world into cyber hell, and only one thing can stop them. From the toxic ashes of Vietnam War II, a new breed of renegade soldier is born. Part man, part machine, all Cyber Commando. Sergeant Rex Colt is leading the battle between good and evil, as it's never been fought before. He's on a desperate mission to bring down a batallion of ruthless killer cyborgs and save the world."
Far Cry 3: Blood Dragon Brainwaves
20th November, 0 replies

Ubisoft Creative Director Alex Hutchinson has been given the go-ahead to develop his own personal project...

20th May, 0 replies

Following on from the announcement of Far Cry 4 just a few days ago, story details for the title were...

16th May, 0 replies

Ubisoft has announced Far Cry 4, which will release on November 18 in North America for Xbox One, Xbox...
Share Far Cry 3: Blood Dragon with others