Wolfenstein: The New Order is a first person shooter inspired by classic first person shooters like the original Wolfenstein. That means health packs, pick ups, classic weapons like the trusty machine gun and shotgun, and explosive set pieces.
Enemies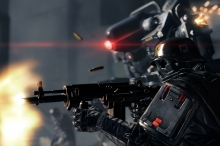 In the intervening 20 years since World War II, the Nazis have managed to advance military technology to a massive degree, developing advanced combat mechs, weaponry and armour, making your task that much harder.
You'll face up against oversized Nazi robots, hulking Super Soldiers and elite shock troops decked out in the most advanced armour of this alternate history 1960s and wielding classic weaponry with a sci-fi twist.
Weaponry
You'll be able to wield ultra-advanced Nazi-tech, and break into secret research facilities and heavily guarded weapon stashes to upgrade your load-out.
You'll also be able to use some of the Nazi's own war machines yourself.