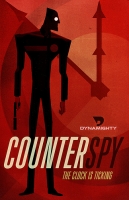 CounterSpy is a side-scrolling stealth game developed and published by Dynamighty for the PlayStation 3, PlayStation Vita, iOS and Android. The game is notable for its 1950s/1960s aesthetic, which is reminiscent of the Cold War, and features an alternate history storyline.
As an elite member of C.O.U.N.T.E.R., your goal is to infiltrate, sabotage, and strike at the heart of two opposing Super Powers embroiled in a frenetic Arms Race that threatens the existence of humanity. You are countering the insane plans of these Cold War foes, raiding their seemingly impregnable bases and undermining their mad military machinations, all before they can launch their ever more ridiculous weapons of mass destruction against each other.
CounterSpy Brainwaves
11th June, 1 replies

Sony has made all of its current PlayStation platforms the home of great, unique-looking upcoming indie...
Share CounterSpy with others