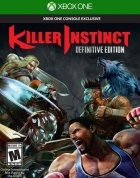 Killer Instinct is an upcoming entry in the Killer Instinct series of fighting games. Developed by Double Helix Games in collaboration with Rare, it will be published by Microsoft Studios exclusively for the Xbox One. It is an Xbox One launch title.
A reboot of the series, it retains its traditional combo-based gameplay that allows combatants to string combos together and attempt to break opposing combos. It also sees the addition of instinct mode, which enhances your character's abilities.
Killer Instinct (2013) Brainwaves
24th May, 1 replies

With E3 fast approaching, the excitement for gaming's largest showcase is definitely building amongst...

9th April, 2 replies

The new Killer Instinct update has started rolling out. It introduces the eighth and final character,...

31st December, 0 replies

The fighting game genre has enabled players to challenge each other in complex, man-on-man virtual battles...
Share Killer Instinct (2013) with others