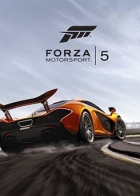 Forza Motorsport 5 is the next upcoming installment of the Forza Motorsport series of racing games. The game is being developed by Turn 10 Studios and will be published by Microsoft exclusively for the Xbox One.
The game touts realistic graphics and humanlike AI capable of leveraging the Xbox One cloud to analyze your driving style and habits to challenge the player. Additionally, the cloud-based "Drivatar" feature allows the players personal profile to participate in races while players are away, accruing points for players that aren't actually playing the game at the time.
Forza Motorsport 5 Brainwaves
7th June, 0 replies

The official Japanese Xbox site has leaked some key pieces of information regarding the upcoming Forza...

23rd April, 0 replies

It has finally been announced that the Xbox One will be launching in Japan later this year, on September...

7th April, 1 replies

We're in the next generation of gaming, right? At least that's what we're told, but I don't feel like...
Share Forza Motorsport 5 with others