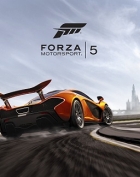 Forza Motorsport 5 is the next upcoming installment of the Forza Motorsport series of racing games. The game is being developed by Turn 10 Studios and will be published by Microsoft exclusively for the Xbox One.
The game touts realistic graphics and humanlike AI capable of leveraging the Xbox One cloud to analyze your driving style and habits to challenge the player. Additionally, the cloud-based "Drivatar" feature allows the players personal profile to participate in races while players are away, accruing points for players that aren't actually playing the game at the time.
Forza Motorsport 5 Brainwaves
15 days ago, 0 replies

Anyone who received a faulty Xbox One will be given a free digital game for their troubles. Although...

10th November, 1 replies

Here's the deal: Sony is doing great with the PlayStation 4, and indeed it looks like it'll be a great...

7th November, 0 replies

With just a matter of days and weeks to go before the next generation consoles from both Sony and Microsoft...
Share Forza Motorsport 5 with others