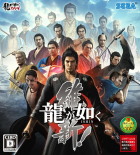 Yakuza: Ishin (known in Japan as Ryu ga Gotoku: Ishin) is an action-adventure game developed and published by Sega. It is set to be released on the Playstation 3 and Playstation 4 on February 22, 2014, and is the fifth spin-off title in the Yakuza series (and the 10th overall game released).
The game takes place in the Tokugawa Shogunate, where series protagonist, Kazuma Kiryu, becomes Sakamoto Ryoma. He is seeking revenge for his father and the teacher, Yoshida Toyo, who was killed by a swordsman. This eventually leads him to joining the Shinsengumi, under the guise of Saito Hajime.
Yakuza: Ishin Brainwaves
19th August, 0 replies

Yakuza Ishin (meaning Yakuza Restoration) is going to be the next game in the Sega's Yakuza series. Apparently,...
Share Yakuza: Ishin with others