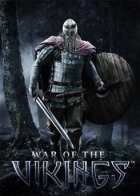 War of the Vikings is a third-person action game developed by Fatshark and published by Paradox interactive for Microsoft Windows. The second game in the War series, proceeded by War of the Roses, it pulls players into the brutal and bloody Viking Age.
Design a personalized warrior and sack England as a mighty Norseman – or defend it as a brave Saxon. Though built on the same combat technology as War of the Roses, War of the Vikingsplans to have an increased intensity, improved accessibility, and more intuitive combat experiences.
War of the Vikings Brainwaves
5th April, 1 replies

War of the Vikings comes to us from Fatshark - the makers of War of the Roses. With that game selling...
Share War of the Vikings with others