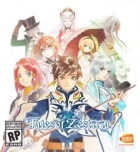 Tales of Zestiria is a japanese RPG developed and published by Bandai Namco exclusively for the PlayStation 3.
The 15th mainline entry in the Tales series, Zestiria follows Sorey, a man blessed with powers by a mystical spirit race known as the Seraphs who act as a stabilizing force in the land, as he travels to free Greenwood from the threat of the Hyoma, creatures spawned by negative emotions.
Tales of Zestiria Brainwaves
8th June, 0 replies

Tales of Zestiria was listed for the PlayStation 4 and PC on Bandai Namco's Singaporean mobile website,...

4th May, 0 replies

The Japanese RPG Tales of Zestiria is out now in Japan and will be released later this year in the West....

16th April, 0 replies

Tales of games have become a fan favorite for many action RPG gamers over the years. Sadly, western fans...
Share Tales of Zestiria with others