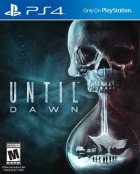 Until Dawn is a survival horror game developed by Supermassive Games Ltd. and published by Sony exclusively for PlayStation 4. The game was first shown as a PlayStation 3 game, but was later re-revealed at Gamescom 2014 as a PlayStation 4 exclusive.
Until Dawn follows a group of eight friends who are trapped together on a remote mountain retreat and aren't alone. Gripped by dread, with tensions running high, they must fight through their fear if they all hope to make through the night in one piece. Your actions and decisions have consequences that carry through the game, meaning the difference between life and death for everyone involved.
Until Dawn Brainwaves
26th May, 0 replies

PlayStation 4 exclusive horror game Until Dawn will launch on August 25th. The game is now available...
Share Until Dawn with others