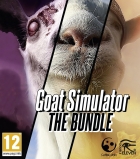 Goat Simulator is a simulation game that was developed by Coffee Stain Studios and released on Microsoft Windows. The game was originally designed as a test for the company's game, a video released of it prompted the studio to make it into an actual game. Players control a goat in a small open-world style map to cause as much havoc as possible.
Goat Simulator Brainwaves
7th May, 0 replies

Quirky game Goat Simulator is getting new DLC tomorrow. The DLC is themed around DayZ and is called GoatZ....

19th November, 0 replies

I'm sure you all know about Goat Simulator, the game that simulates the wacky daily lives of goats. The...
Share Goat Simulator with others