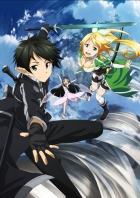 Sword Art Online: Lost Song is an action role-playing game being developed by Bandai Namco Games and is set to release sometime in 2015, for the Playstation 3 and Playstation Vita. The game is set in the world of Alfheim Online, which was the setting for the second half of season one of the anime, although it isn't known if the game will follow the anime.
Sword Art Online: Lost Song Brainwaves
2nd January, 2 replies

For further clarification, I have collected both items to activate the levitation portal that will let...
Share Sword Art Online: Lost Song with others
Sword Art Online: Lost Song