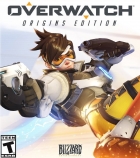 Overwatch is a multiplayer first person shooter being developed and due to be published by Blizzard Entertainment for Windows PC and Mac OS.
Set on a futuristic Earth, Overwatch features squad-based combat with two opposing teams of six players each, with each team having a defined role to either Attack or Defend. Players will be able to select from 15 playable characters, each with their own strengths and weaknesses.
Overwatch Brainwaves
8th November, 0 replies

One of the other announcements to come out of today's BlizzCon opening ceremony is that of Overwatch....
Share Overwatch with others