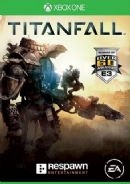 Titanfall is a shooter game developed by Respawn Entertainment and published by Electronic Arts, with it being released on Microsoft Windows, Xbox 360, and Xbox One. Titanfall is scheduled for release in Spring 2014. Respawn has announced that the Xbox 360 version of Titanfall is being developed by a separate team.
Titanfall features both classic shooting mechanics and vehicular gameplay inside of giant mech suits called Titans. The player has the choice of playing in either style, with each having its own advantages. Respawn Entertainment is emphasizing the game's fast and fluid multiplayer gameplay.
Titanfall Brainwaves
24 days ago, 0 replies

Titanfall for Xbox 360 will finally be receiving the Frontier Defense game mode next week - in the form...

22nd October, 0 replies

In what's being billed as the most significant Titanfall update to-date, Titanfall 'Game Update Eight'...

28th August, 0 replies

Titanfall, the acclaimed shooter from former Call of Duty developers Respawn, will be getting yet another...
Share Titanfall with others