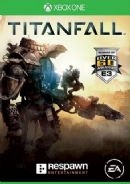 Titanfall is a shooter game developed by Respawn Entertainment and published by Electronic Arts, with it being released on Microsoft Windows, Xbox 360, and Xbox One. Titanfall is scheduled for release in Spring 2014. Respawn has announced that the Xbox 360 version of Titanfall is being developed by a separate team.
Titanfall features both classic shooting mechanics and vehicular gameplay inside of giant mech suits called Titans. The player has the choice of playing in either style, with each having its own advantages. Respawn Entertainment is emphasizing the game's fast and fluid multiplayer gameplay.
Titanfall Brainwaves
6th May, 0 replies

Electronic Arts has stated that Titanfall 2 won't be released until the company's next fiscal year. The...

8th April, 3 replies

I've been playing a lot of Titanfall lately, for a myriad of reasons. 1. I didn't own a machine capable...

9th January, 0 replies

Even gamers who don't enjoy modern shooters must admit that 2014 was a genuinely good year for the shooter...
Share Titanfall with others