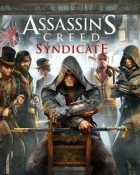 Assassin's Creed Syndicate is an action-adventure game developed by Ubisoft Quebec and published by Ubisoft, being released on PlayStation 4, and Xbox One in October 2015, with a Microsoft Windows release following in the fall. It is the ninth installment in the main Assassin's Creed franchise, with its setting taking place in London during the height of the Industrial Revolution.
Players will embody both Jacob Frye and Evie Frye, twin Assassins raised to follow the Creed. Jacob, a determined, hot-headed and rebellious leader of an underground gang, is vastly different than his sister Evie, a master of stealth and control. Together, Jacob and Evie team up to challenge rivals, plutocrats and Templars alike to free the masses from poverty and corruption, and ultimately wrestle back control of London.
Assassin's Creed Syndicate Brainwaves
8th June, 0 replies

You know E3's around the corner when game banners start going up around the LA Convention Center. Here's...

4th June, 0 replies

Ubisoft is taking Assassin's Creed Syndicate on the road during E3. The game will be playable at eight...

3rd June, 0 replies

Ubisoft has released the full details of its E3 2015 plans. The press conference will take place on June...
Share Assassin's Creed Syndicate with others
Assassin's Creed Syndicate