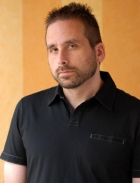 Ken Levine is an American video game developer best known for award-winning titles BioShock Infinite, System Shock 2, and Thief.
He is currently working on a prequel to Bioshock called BioShock Infinite, set in a fictional floating steampunk city in 1912. He is also set to begin development of a PlayStation Vita version of BioShock after completion of the project.
Ken Levine Brainwaves
10th April, 0 replies

In a recent interview with GameInformer, BioShock creator Ken Levine discussed the importance of a strong...

6th January, 1 replies

Artwork for the now-cancelled BioShock movie has been doing the rounds. You can check out some of the...

11th March, 0 replies

After announcing that Irrational Games was shutting its doors, former employees were given the opportunity...
Share Ken Levine with others